หมวดหมู่ : หนังดราม่า , หนังชีวประวัติ , หนังโรแมนติก
เรื่องย่อ : Radioactive มาดามคูรี ยอดหญิงเรเดียม (2019) [พากย์ไทย บรรยายไทย]


ชื่อภาพยนตร์ : Radioactive รังสีเรเดียม
แนว/ประเภท : Biography, Drama, Romance
ผู้กำกับภาพยนตร์ : Marjane Satrapi
บทภาพยนตร์ : Jack Thorne, Lauren Redniss
นักแสดง : Rosamund Pike, Yvette Feuer, Mirjam Novak
วันที่ออกฉาย : 15 June 2020
Radioactive ผลงานดราม่าดัดแปลงจากเรื่องจริงว่าด้วยชีวิตของ Marie Curie นักเคมีผู้ค้นพบรังสีเรเดียม ที่ใช้ยับยั้งการขยายตัวของมะเร็ง Rosamund Pike มารับบทนำหนังชีวประวัตินักวิทยาศาสตร์เอกของโลก มารี คูรี มารดาแห่งวงการเคมีผู้ค้นพบรังสีเรเดียมที่ปัจจุบันใช้รักษามะเร็ง
โดยจะโฟกัสเรื่องความสัมพันธ์ระหว่างเธอกับสามีและการต่อสู้เพื่อความเท่าเทียมทางเพศในยุคที่ผู้หญิงถูกกำหนดบทบาทให้เป็นเพียงแม่บ้านแม่เรือน Marie Curie เป็นนักเคมีผู้ค้นพบรังสีเรเดียมที่ใช้ยับยั้งการขยายตัวของมะเร็ง เธอได้รับรางวัลโนเบลสาขาฟิสิกส์ในปี 1903
และโนเบลสาขาเคมีในปี 1911 ตัวหนังสร้างจากหนังสือเรื่อง Radioactive: Marie & Pierre Curie: A Tale of Love and Fallout และนักแสดงที่จะมารับบทบาท Marie Curie คือ Rosamund Pike จาก Gone Girl นั่นเอง
IMDB : tt6017756
คะแนน : 6.2
รับชม : 1005 ครั้ง
เล่น : 285 ครั้ง
For such an eventful life – and fascinating person – Marie Curie (née Maria Skłodowska) has not received the big screen treatment much. Radioactive, from director Marjane Satrapi, and based on the graphic novel of the same name by Lauren Redniss, seeks to readdress that balance and brings Madam Curie centre stage. Unfortunately, this film does not truly do justice to her legacy.
With a tendency towards the contrived, the film's opening scene has Marie Curie (Rosamund Pike) being rushed into hospital, close to death, with her thoughts consumed by the past and her mother's death when she was a young girl. Although a reasonable association to make, it's rather clumsy in the way it attempts to depict that early bereavement's effect on a young Maria before diving into the rest of her life story. Similarly, the later development of a relationship between Marie and Pierre Curie (Sam Riley), a fellow scientist at the Sorbonne, is overly rushed, plunging us into the beginnings of their work on discovering radium and polonium at rather unwieldy speed.
Sam Riley is reliably good as Pierre, a man who was happy to share the spotlight with his exceptional wife professionally, but whose manner was calmer and more introspective. To put it in its starkest terms, the way Pierre is portrayed in this film is akin to the countless supportive wife parts that Hollywood has pumped out over the years. In Radioactive's context, this is particularly noteworthy.

The cast is well-stocked with British talent, including Aneurin Barnard as the Curies' colleague Paul Langevin, Sian Brooke as Marie's sister, and Simon Russell Beale as Professor Gabriel Lippmann. The film is undoubtedly dominated by Rosamund Pike as Marie Curie though, and justifiably so. Pike has carved out a niche as confident but cold females, who are somewhat unlikeable. Marie Curie is clearly painted as a "difficult woman" in Radioactive, and it's likely her ambition and single-mindedness made her a force with which to be reckoned – the business-like way she gives birth is something to behold. Pike's earnestness, however, is sometimes a little grating and extreme, and it becomes tricky to work out if this is more Curie or more Pike.
Despite its tendency towards the pedestrian in its depiction of the Curies, with uninspired dialogue and quite a lot of showing and telling, Radioactive does attempt to inject more personality by straying away from its rather rigid reliance on plodding chronology. This is more successful on some occasions rather than others, for example the imagined meeting of Marie and Pierre as children to reflect the impact they have had on each other's lives. There are also a few instances where Satrapi gets creative with slideshow images and interpretative dance, but with mixed results as they jar with the rest of the middle-of-the-road biopic proceedings.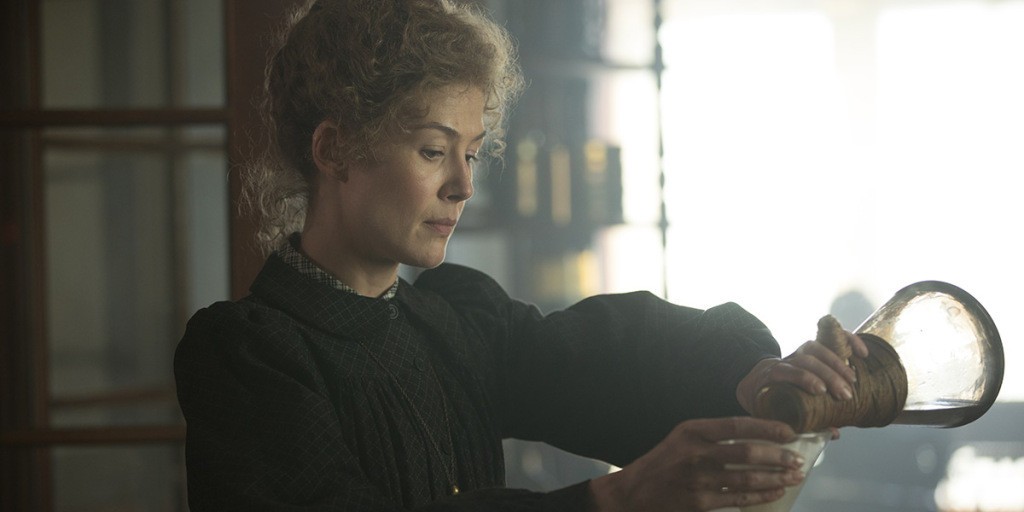 Where Radioactive does score well is the way it intertwines the future of radioactivity, and what it will bring, with Marie and Pierre's endeavours in their timeline. Cancer treatment and nuclear applications – simply put, the positive and negative outcomes of the Curies' discoveries – are given equal weight, and depicted with ominous effect. Although both Marie and Pierre felt that more good than harm would come from their research, in Marie's own words there was "much to be scared of and celebrate". With the soundtrack settling for a science-y, slightly whimsical feel throughout most of Radioactive, it is these retrospective (well, to us) sections that give the music a chance to peak and swell in a more affecting way. The only other scene that comes close to these in terms of emotional heft is Marie's reaction to Pierre's death, the brutality of which is not held back on. Pike's grief is raw and utterly convincing.
The remainder of Marie Curie's life is equally compelling, taking in a scandalous affair, a second Nobel Prize, xenophobic threats and pioneering mobile radiography units. This is somewhat condensed by Radioactive, which leaps to the most important parts without much contextual ground work beforehand. This also demonstrates the wealth of material that Marie Curie's life and circumstances provide: it cannot fail to be interesting, despite any shortcomings in presentation and film-making. It is problematic, however, when you find the story engaging despite the film wrapped around it.
The overall atmosphere of the film is one of melancholy; radioactivity is somewhat of a poisoned chalice, and Marie Curie lived a hard life – and died – in pursuit of scientific discovery. As someone "surrounded by death and radiation", this seems an appropriate tone to strike for the biopic of Marie Curie. The unevenness in its execution, however, prevents Radioactive from having the impact that a film based on such an extraordinary woman should.