หมวดหมู่ : หนังดราม่า , หนัง Netflix
เรื่องย่อ : 6 Balloons ซิกซ์ บอลลูน (2018) [บรรยายไทย]


ชื่อภาพยนตร์ : 6 Balloons ซิกซ์ บอลลูน
แนว/ประเภท : Drama
ผู้กำกับภาพยนตร์ : Marja-Lewis Ryan
บทภาพยนตร์ : Marja-Lewis Ryan
นักแสดง : Abbi Jacobson, Dave Franco, Charlotte Carel
วันที่ออกฉาย : 6 April 2018
เคธี่ พี่สาวที่รักครอบครัวคนหนึ่งพยายามดิ้นรนเพื่อควบคุมสถานการณ์ขณะที่ต้องขับรถเพื่อพาเซธ น้องชายที่ติดเฮโรอีนไปยังศูนย์บำบัด พร้อมกับดูแลลูกสาววัยสองปีของเขาด้วย ภาพยนตร์เรื่องนี้นำแสดงโดยแอ็บบี้ เจค็อบสันและเดฟ ฟรันโก
IMDB : tt6142496
คะแนน : 5.8
รับชม : 351 ครั้ง
เล่น : 12 ครั้ง
It is incredibly difficult to love an addict. Not only does their addiction continuously define the dynamic of your relationship, but they are like a drowning man, able to take you down with them as they flail their arms and fight for air. Rarely has a film captured this better than Marja-Lewis Ryan's "6 Balloons," premiering next month on Netflix after its world premiere at SXSW. It features a pair of young actors who are mostly known for comedy in a heartfelt, scary drama about what addiction does to the people around the addict. We've seen countless stories of junkies trying to get clean, but how does someone sever the tie to someone who just keeps pulling them under again and again?
We meet Katie (Abbi Jacobson of "Broad City") as she prepares for a surprise birthday party for her boyfriend. She goes to buy balloons with her mother (Jane Kaczmarek) and her father (Tim Matheson) and friends show up early to set things up. But her brother Seth (Dave Franco) and Seth's 4-year-old daughter appear to be missing. Seth isn't answering his phone, and a look crosses Katie's face that tells us she knows what that means. When she gets to his apartment to bring him and Ella to the party, she sees that he hasn't been opening his mail. As she says, "that happened last time." Seth is a heroin addict. Seth has relapsed.
He agrees to go to detox. Katie will drive him to the clinic and he'll get clean … again. Katie can go pick up the cake she told her friends and family she was getting, and bring her niece to the party too. Of course, this doesn't go as planned. The first clinic won't take his health insurance, and a 10-day detox costs $5,000. And then Seth's body/addiction starts revolting against him. Franco lost 20 pounds for the role, and he looks like he's studied what withdrawal does to a body. "6 Balloons" is downright frightening at times, enhanced by a 4-year-old girl being in a car seat and witness to all of this, although I was concerned Ryan would use that child character manipulatively and she never does. Ella's presence enhances the tension of "6 Balloons" but also reminds us how addiction often doesn't happen in a vacuum—it happens near children and siblings, and they are forced to watch the downfall.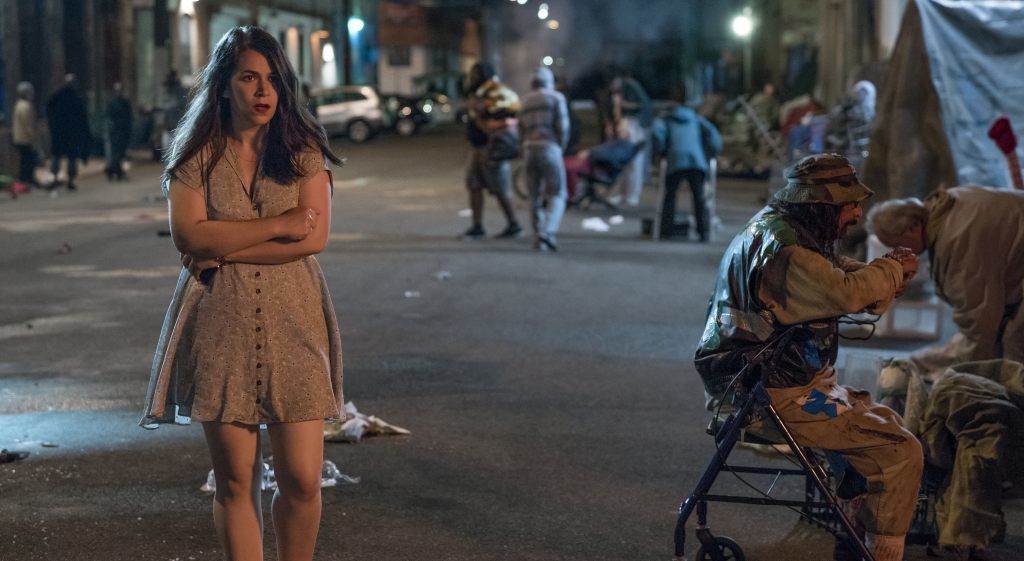 As the party that Katie planned goes on without her, Ryan plays self-help audio over the arc of Katie and Seth, almost like chapter breaks. The self-help audio uses the analogy of a sinking boat, and it feels manipulative and on-the-nose at first, but really works in the final act of her film. The closing scenes of "6 Balloons" had my heart in my throat and tears in my eyes in ways that I wasn't expecting. It's incredibly powerful stuff.
That's because of Ryan's confidence as a writer/director, but also because of how much Jacobson and Franco bring to these roles. Franco has proven himself to be a talented comic actor and scene-stealer in supporting roles, but this is his first truly memorable dramatic turn and he nails it. There's also a remarkable trust between Ryan and Jacobson in that while the self-help audio may be a little blunt, most of what Katie's experiencing emotionally is internalized. She doesn't get many big monologues and doesn't have as much dialogue as a lesser writer would have given her to explain her emotional turmoil. It's in her eyes. It's in her body language as she's clearly uncertain how to help Seth and stop hurting herself in the process. It's a great performance.