After his career-reviving A Chinese Odyssey: Part Three 大话西游3 (2016), which took a nice RMB360 million-plus in the Mainland, Hong Kong spoofster Liu Zhenwei 刘镇伟 [Jeff Lau], 65, dishes up more of the same nonsense costume comedy he's been doing for a quarter of a century in Soccer Killer 仙球大战, in which an imperial princess rounds up some ageing martial artists to defend the country in a football match vs an evil Mongolian's superheroes. The film isn't quite as awful as its puny box office (RMB10 million) and negative critics would suggest – plus the fact that it was pulled from a peachy Valentine's Day slot and then dumped in mid-summer – but it feels like a tired throwaway from a veteran whose career has seen better days, especially with film-makers like Zhou Xingchi 周星驰 [Stephen Chow] and Wang Jiawei 王家卫 [Wong Kar-wai] during the 1990s. An interesting cast – including Mainland TV host-turned-actor He Jiong 何炅 and Hong Kong's Zhong Xintong 钟欣潼 [Gillian Chung] and Cai Zhuoyan 蔡卓妍 [Charlene Choi] in their first proper on-screen pairing since Twins Mission 双子神偷 (2007) – is wasted on what looks like a hastily written, cash-in script, shot in the Mainland's giant Hengdian World Studios.
Liu's last decent comedy was Just Another Pandora's Box 越光宝盒 (2010) – a kind of Carry On Up the Red Cliff – which showed some care in the writing and was superbly mounted. Soccer Killer has all the usual ingredients – deliberate anachronisms, wordplay, parodies – but they're all several notches down this time: a joke about Barbie dolls seems to go on forever, the play with language is minimal, and the use of Marvel superhero lookalikes for the enemy "soccer" team doesn't have much point beyond a single gag. There are a few genuine laughs but they're few and far between; and the mounting, though okay, is also a notch down on every level. The lack of care percolates down even to the haphazard use of chapter titles and the discrepancies between characters' names on screen and in the final roller.
Two moments typify the general lack of creative bounce. An early scene, introducing Zhong, Cai and He as martial artists on the road, is meant to spoof the visual style/costumes of Ashes of Time 东邪西毒 (1994, actually co-produced by Liu) but simply falls flat. At the end of the film, there's an exchange by two palace maids – one played by no less than Ma Li 马丽, one of the Mainland's top comediennes (Never Say Die 羞羞的铁拳, 2017) – that was obviously designed to be a witty inside joke but again falls flat ("So what exactly is going on between the four of them?" "Oh, you know these nonsense-comedy 无厘头 stories…it's all just for a big laugh, right?"). Instead the final big laugh goes to Hong Kong actress Rong Zu'er 容祖儿 [Joey Yung] in an army general's uniform – followed, in time-honoured Hong Kong fashion, by a comic freeze frame. And thus it always was.
There's nothing wrong with silly comedy – Hong Kong, Mainland or otherwise – but for someone who's basically a writer rather than a director it's depressing to watch a film with such lazy dialogue. For the rest, the action is okay, the look moderately sumptuous (both directors of photography worked with Liu previously, Huang Baomin 黄宝民 on East Meets West 东成西就2011, 2011, and Gao Zhenggan 高正淦 on CO3), and the visual effects (curiously, uncredited) get the job done despite not being elaborate by current standards. But if Liu is to escape being tagged as yet another Hong Kong director endlessly recycling past glories, he needs to pull his socks up fast. (He has more costume projects in the works, but his modern comedy, You'd Better Run 你往哪里跑, released after Soccer Killer, also crashed, with an identical box-office tally.)
The boyish-looking He, 43, whom Liu directed in the modern comedy Lock Me Up Tie Him Down 完美假妻168 (2014), is fine as a wannabe martial-arts master with designs on Zhong's princess, and works easily with both Zhong and, especially, Cai, the latter as a co-disciple who fancies him. Liu himself pops up now and then as a corrupt prime minister, and the cameo-studded cast makes good use of some oldtime action stars in the early stages. But that's hardly a new idea, and Liu doesn't seem to know what to do with them later. It's the same with the whole film: Zhou already did martial arts + football in Shaolin Soccer 少林足球 (2001); Liu tries to go one step further by mixing them with costume comedy but only succeeds in going two steps back.
The Chinese title literally means "Immortal Ball, Big Battle".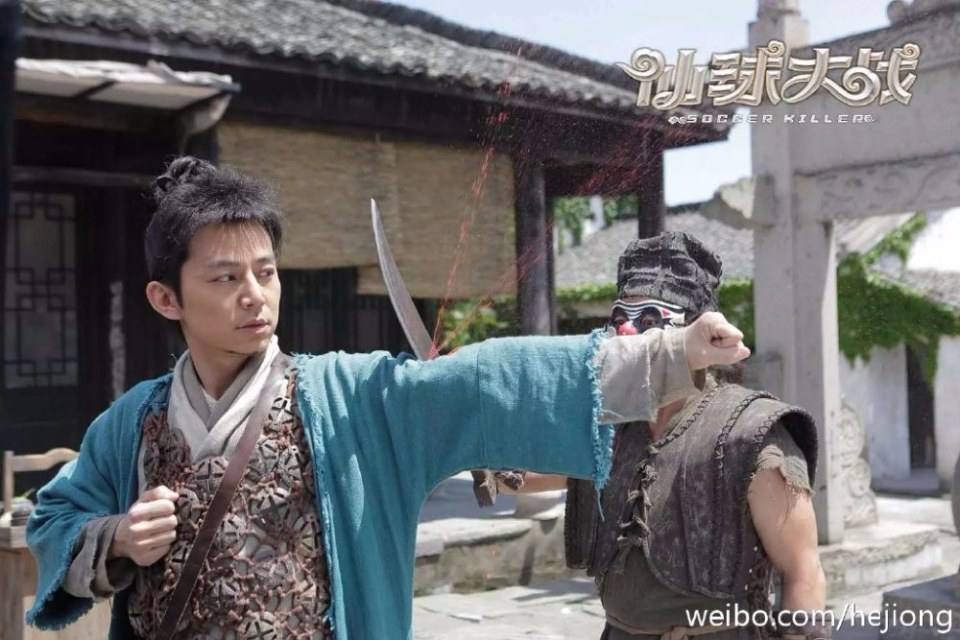 CREDITS
Presented by Dandong Fengcheng Qianyi Film & TV (CN), Filmko Film (CN). Produced by Golden Gate Productions (HK), Dandong Fengcheng Qianyi Film & TV (CN).
Script: Ji An [Liu Zhenwei]. Photography: Huang Baomin, Gao Zhenggan. Editing: Mai Zishan [Marco Mak], Wang Gaigai. Music: Hu Weili. Production design: He Jianxiong. Costumes: Liu Jingdong. Styling: Wu Baoling [Bobo Ng]. Sound: Wang Luqian, Ye Zhaoji, Nie Jirong. Action: Qin Pengfei. Visual effects: uncredited. Postproduction supervision: He Zhaoyuan. Executive direction: Jiang Daohai.
Cast: He Jiong (Mao Cilang; Sun Wukong/Monkey), Zhong Xintong [Gillian Chung] (Changping, princess), Cai Zhuoyan [Charlene Choi] (Ling'er), Ma Li (Ya Dahu, Changping's maidservant), Liu Zhenwei [Jeff Lau] (Qin Nu, prime minister), Deng Lixin [Stephy Tang] (Miejue, nun), Lin Zicong (Yideng, monk), Li Jing (Zhang Shanfeng, palm master), Yuan Kui [Corey Yuen] (Qing Song), Yuan Xiangren (Guo Huaqiang, sword master), Zhong Fa (Ling Qiao Miao), Zhao Zhiling (Shi Tianjing), Feng Ke'an (Yi Feilun), Michael Nguyen, Nicklas Lynn Keng, Wang Fuhai, Jun Jun, Chen Cong, Miao Libiao, Wu Xingyu, Fan Yizhu, Zhang Zhiwei (Eagle Claws warriors), Du Haitao (Song Bing, Jiangdong 108 Killer), Wu Xin (Sun Xin's wife), Li Weijia (Sun Xin, Jiangdong 108 Killer), Huang Yixin (Bai Mei), Shen Ling (Wu Neng), Yang Di (Lu Zi), Liu Wei (Li Qing), Teng Kuiyuan (Shi Tian), Liang Hanbing (Du Sanniang, Jiangdong 108 Killer), Chai Ge (Bao'er, emperor), Su Danping (Ju Yige, Changping's maidservant), Rong Zu'er [Joey Yung] (Da Dan, general), Tan Yaowen (Yuanyan Honglie), Hu Jiayao (Liu Jin), Huang Xiaofeng (Zhang, police constable).