หมวดหมู่ : หนังตลก
เรื่องย่อ : The Village of No Return หมู่บ้านคนเพี้ยน (2017) [พากย์ไทย บรรยายไทย]


ชื่อภาพยนตร์ : The Village of No Return หมู่บ้านคนเพี้ยน
แนว/ประเภท : Comedy
ผู้กำกับภาพยนตร์ :Yu-Hsun Chen
บทภาพยนตร์ : Yu-Hsun Chen, Yaosheng Chang
นักแสดง : Qi Shu, Qianyuan Wang, Hsiao-chuan Chang
วันที่ออกฉาย : 26 January 2017
The Village of No Return : หมู่บ้านคนเพี้ยน หนังใหม่ของตำนานดาวค้างฟ้าเอเชีย ซูฉี ที่มีกำหนดออกฉายในปี 2017 โดยเป็นงานสร้างของ Lee s One Production Film, Wanda Pictures ของจีน และ Warner Bros (Taiwan) ไต้หวัน เป็นงานในแนวกังฟู ตลกร้าย กับเรื่องราวของหมู่บ้านชนบทในปลายราชวงศ์ชิง กับการก่อสร้างทางรถไฟ ที่ทำให้เกิดเหตุการณ์ประหลาด The Village of No Return มาพร้อมกับนักแสดงอื่นๆได้แก่ เจิ้งจื่อเหว่ย หวังเสี่ยวเฉวียน หวังเชี่ยนหยวน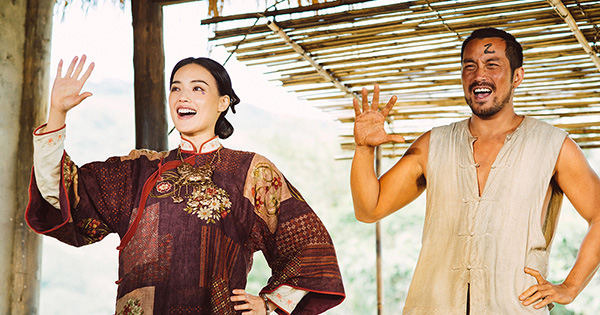 IMDB : tt6461526
คะแนน : 6.1
รับชม : 618 ครั้ง
เล่น : 75 ครั้ง
After his strong comeback to feature films with the likeable foodie comedy Zone Pro Site 总铺师 (2013), Taiwan film-maker Chen Yuxun 陈玉勋 (Tropical Fish 热带鱼, 1995; Love Go Go 爱情来了, 1997) falls flat on his face with lame period comedy The Village of No Return 健忘村. Produced in Taiwan on a mixture of local and Mainland money, and set somewhere in China during the chaotic early years of the Republic, it's a painfully unfunny, silly-arse farce that's poorly written, with little sense of direction or structure, and shot and performed like a TV production, with none of Chen's usual bold use of colour and design. The only members of the cast to rise above the juvenile Taiwan humour are Shu Qi 舒淇, as a young widow, and Mainland character actor Wang Qianyuan 王千源, as a "lay priest"-cum-conman. In China the film crashed and burned, taking only RMB16 million.
Between Zone and Village, Chen co-wrote wannabe black comedy The Laundryman 青田街一号 (2015) which also suffered from the same problems, running on empty most of the time as it mugged its way from scene to scene. Village starts off with Hong Kong's Zeng Zhiwei 曾志伟 [Eric Tsang] in a funny wig as a noble plotting rebellion in a nearby (unseen) local town, switches to a village where the inhabitants are going to prepare the way, turns briefly into a murder mystery when a peasant is found poisoned, introduces a passing conman posing as a lay priest who offers to solve the whodunit, keeps referring to the planned putsch without advancing it in any way, and then – 50 minutes in – finally seems to get to the point: Village is a comedy about a conman who brainwashes an entire community with an antique gizmo and then takes over as village head.
Well, yes and no. The idea of the brainwashed yokels being on a permanent "happy high", and having such short memories that they can't even remember their own names, is only briefly developed as the conman goes about his dastardly plan. Before long, the script, by Chen and Taiwan short film-maker Zhang Yaosheng 张耀升, crowbars the putsch strand back in, with some bandits led by the local postwoman (portly comedienne Lin Meixiu 林美秀) re-introduced into the plot. Character veterans like Gu Baoming 顾宝明 (here playing the devious/stupid village head) clock in professionally but can't motor the film; neither, alas, can an established younger actor like Zhang Xiaoquan 张孝全 [Joseph Chang], who looks as lost here as he did as the hitman in Laundryman. To give of his best, Zhang needs a strong script and a sharply defined character, neither of which he gets here as a comic/soppy martial-arts expert. Fellow Taiwan actor Yang Youning cameos near the end, enlivening Shu but not making much of a mark with his own character.
It's left to Shu, 40, and China's hatchet-faced Wang, 44, to give the film some kind of shape. However, Shu, who's turned many a lame movie into one worth watching just for her performance, seems uncertain how to play her widow character in the early stages and only really finds her feet an hour in. It's Wang – so good as the amoral kidnapper in Saving Mr. Wu 解救吾先生 (2015) and as the older, ambitious colleague in Brotherhood of Blades 绣春刀 (2014) – who gives the film some backbone, in a commanding performance from his first appearance that's both evil and sympathetic. The problem, like the rest of the movie, is that it's not particularly funny.
Naturalistic production and costume design are up to scratch, and widescreen photography by Taiwan d.p. Yao Hongyi 姚宏易 is bright and attractive but with none of the occasional resonance of his work on Laundryman. As in Zone, the bouncy music by Wang Xiwen 王希文 jogs things along. Whereas the film's English title makes it sound like a horror film, the Chinese one ("The Forgetful Village") is more to the point. Location shooting was around Pingdong, southern Taiwan.