หมวดหมู่ : หนังดราม่า , หนังสยองขวัญ , หนังระทึกขวัญ
เรื่องย่อ : Shut In (2022) [บรรยายไทย]


ชื่อภาพยนตร์ : Shut In
แนว/ประเภท : Drama, Horror, Thriller
ผู้กำกับภาพยนตร์ : D.J. Caruso
บทภาพยนตร์ : Melanie Toast
นักแสดง : Rainey Qualley, Jake Horowitz, Luciana VanDette
วันที่ออกฉาย : 10 February 2022
เมื่อคุณแม่ยังสาวคนหนึ่งถูกแฟนเก่าหัวรุนแรงขังไว้ขังอยู่ในห้องเก็บอาหาร เธอต้องใช้ความเฉลียวฉลาดในการปกป้องลูกเล็กๆ สองคนของเธอจากอันตรายที่ทวีความรุนแรงขึ้นในขณะที่พยายามหาทางหนี
IMDB : tt10131024
คะแนน : 6.3
รับชม : 2436 ครั้ง
เล่น : 946 ครั้ง
Shut In is, as I'm sure you're aware, the new film from Ben Shapiro and his website The Daily Wire. I was initially impressed by the reviews it was getting. Then I noticed how many of them were from sites that, even if they didn't call themselves conservative, right wing, or even political, had a very obvious point of view. Comments about "beta males", Hollywood's "liberal agenda" and complaints about "woke culture" abounded. So, as with their previous. film, Run Hide Fight, I decided to watch it and see if it was a decent thriller or propaganda.
Jessica (Rainey Qualley; Ultrasound, Ocean's Eight) is a former meth addict struggling to stay straight and raise her two young children. She also wants to sell the house her grandmother left her, move away and start over. Unfortunately she manages to lock herself in the house's pantry.
Rob (Jake Horowitz; Castle Freak, Agnes), her violence-prone and still addicted ex, shows up unexpectedly and lets her out. Unfortunately, he also bought his buddy Sammy (Vincent Gallo; The Brown Bunny, Buffalo 66) who has a thing for little girls. It doesn't take long before Jessica is back in the pantry, this time with it nailed shut.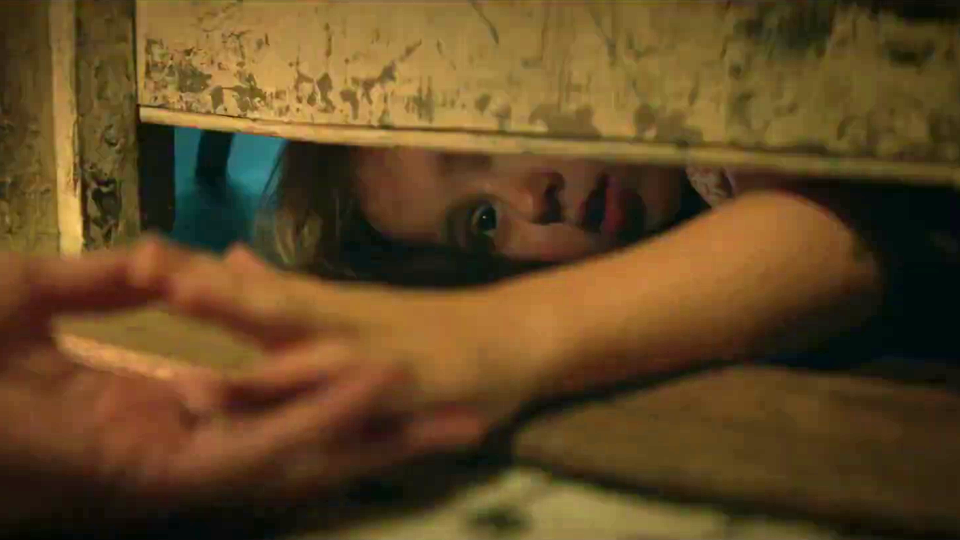 Director D.J. Caruso (Disturbia, xXx: Return of Xander Cage) and writer Melanie Toast set Shut In up as a home invasion thriller with the twist that, for most of the film Jessica is locked in the pantry and has to try to keep Lainey (Luciana VanDette) and her infant brother safe from there. Much has been made of the fact that Toast's script made Hollywood's Black List, but it apparently underwent rewrites on its way to the screen, because there's nothing really exemplary about it.
It's not that Shut In is a bad film, it isn't, it's just a very average one. There's some suspense at times when Jessica finds herself in situations I couldn't see an obvious way out of. But at the same time, I never felt that the kids were in any real danger. The filmmakers never convinced me that they were willing to offend their target audience, it'll run as a subscriber perk on the Daily Wire website, by inflicting serious harm on them.
It further undercuts any tension by pushing religion to the forefront. From Rob putting a nail through Jessica's hand while sealing the pantry to scenes of her sitting reading the bible, Shut In makes its faith-based nature very clear. And if the point of a film is to show the power of God and his ability to save those with faith, there's only one way it really can end. If they don't come out OK that defeats the whole point of the film and alienates the likely audience.
Much of what I did like about Shut In came from Rainey Qualley's performance. She does a good job of expressing her character's fear and panic without going over the top and chewing the scenery. That may be genetic as she's the daughter of actress Andie MacDowell (Groundhog Day, Sex, Lies and Videotape). On the other hand Vincent Gallo in his first film since 2013's The Human Trust looks a bit like Charles Manson while delivering an embarrassingly poor performance. Hopefully it'll be another nine years before I'm subjected to him again.
Well made from a technical standpoint and with acceptable if uninspired direction from D.J. Caruso, Shut In is a thriller that ends up being low on any real thrills. It's kind of like watching an episode of a TV show, you might get caught up in the action, but you never really have any doubt about how it ends.