หมวดหมู่ : หนังดราม่า
เรื่องย่อ : One Night in Miami คืนหนึ่งในไมแอมี… (2020) [ บรรยายไทย ]


ชื่อภาพยนตร์ : One Night in Miami คืนหนึ่งในไมแอมี…
แนว/ประเภท : Drama
ผู้กำกับภาพยนตร์ : Regina King
ผู้เขียนบทภาพยนตร์ : Kemp Powers
นักแสดง : Kingsley, Eli Goree, Aldis Hodge, Leslie Odom Jr., Lance Reddick

คืนหนึ่งในไมแอมี… คือเรื่องราวที่แต่งขึ้นเกี่ยวกับค่ำคืนที่เหลือเชื่อที่มูฮัมหมัด อาลี, มัลคอล์ม เอ็กซ์, แซม คุก และจิม บราวน์ผู้โด่งดังได้รวมตัวกันเพื่อพูดถึงบทบาทของพวกเขาในการเคลื่อนไหวเพื่อสิทธิพลเมืองและการเปลี่ยนแปลงทางวัฒนธรรมในยุค 1960
IMDB : tt10612922
คะแนน : 6.2
รับชม : 706 ครั้ง
เล่น : 74 ครั้ง
On February 25, 1964 in Miami Beach, Florida, heavyweight boxing champion Sonny Liston met Cassius Clay in the ring for the first of their two famous bouts. Clay emerged victorious, earning the championship and skyrocketing the career of the man who would later be known as Muhammad Ali. Regina King's directorial debut, "One Night In Miami," is a fictionalized account of what happened before and after that fight that day, when Clay (Eli Goree) and his friends Jim Brown (Aldis Hodge), Sam Cooke(Leslie Odom Jr.) and Malcolm X (Kingsley) got together to chill, debate, argue and celebrate. These men are all celebrities in their own right, but to each other, they're simply friends and acquaintances unafraid to challenge each other's views on the present and future of Black America.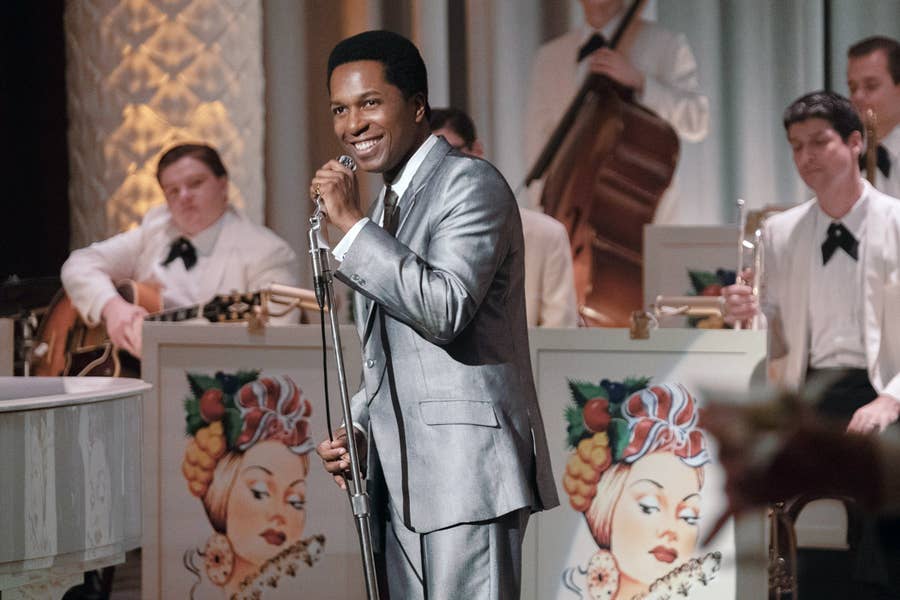 Adapting his play, screenwriter Kemp Powers peppers his scenario with historical facts and truths about each of his characters. He imagines what they said to each other during their real-life meeting, and the writing finds an emotional accuracy within its dramatic license. The result is a riveting drama that at times evokes Spike Lee and Reggie Bythewood's "Get On The Bus." Both films allow us to sit with Black men and listen to them engage one another with the honesty and freedom they can only fully enjoy without the presence of White America. Absent the prying eyes of "polite company," these men strip their masks and dive headfirst into the invigorating and deep pool of "keeping it a hundred." I've quoted Ossie Davis' "Purlie Victorious" line before, but it's appropriate here too: "Being Black can be a lot of fun when ain't nobody lookin'." These men know it, and "One Night In Miami" shows it to us.
This is a very good film, full of memorable performances and thought-provoking speeches and arguments. The accomplishments of King and her actors are even more impressive when you stop to think about the shadows these men cast, both in their real-life incarnations and their cinematic representations. Brown and Ali were larger than life as sports figures on the TV and as characters on the big screen. Ali played himself in "The Greatest," and Will Smith got an Oscar nomination as Ali as well. Sam Cooke was one of the biggest singers of his era, doing concerts and appearances you can easily find on YouTube. And if Malcolm X weren't already electrifying in his speeches and his autobiography, Denzel Washington immortalized him in Spike Lee's 1992 masterpiece. One can't envy the intimidating undertaking this cast is tasked with in this film.
Yet, each actor excels in his part, masterfully handling their individual moments as well as their ensemble scenes. Odom, a Tony winner for "Hamilton," is pure joy singing Cooke's songs, leaning into the performances even when he's just casually singing to himself. He's the biggest star at this moment, bearing witness to the ascension and conversion of one sports figure and the retirement of another. He's also in the room with a civil rights powerhouse facing his own changes via a crisis of his own faith in a spiritual leader. Cooke doesn't see how his voice can be as powerful a weapon for his people as Malcolm's speeches, and he's a bit resentful that his own successful music business ventures aren't seen as a means to help the community. In one of the few times the film leaves its present, Cooke is seen saving a disastrous concert appearance by having the audience amplify the power of his a capella performance by stomping along to his hit, "Chain Gang." Odom's musical performance practically shakes the screen; not for nothing does he end the film with Cooke's classic Civil Rights anthem, "A Change Is Gonna Come."
As Jim Brown, Hodge exudes an athletic prowess and the powerful presence Richard Pryor used to marvel at in his comedy routines. At the time, Brown was breaking records as a Cleveland Brown, tearing up the field, and earning the admiration of fans everywhere. Powers uses Brown to highlight how little Black humanity matters, regardless of one's celebrity. Beau Bridgeshas an unforgettable cameo as Carlton, a resident of Brown's hometown, St. Simmons, Georgia, who knew the Browns and is proud to say he's from the same town as a future Hall-of-Famer. His reunion with Brown seems genial and friendly until the moment Brown offers to help Carlton move some furniture. Carlton nonchalantly reminds Brown that he's never "allowed n--gers in the big house." Hodge lets his face tell the story; no matter how big you get, you're still not as good as an average White man.
Verbally, Goree and Ben-Adir have the biggest shoes to fill. They're playing fast-talkers, men who command attention by virtue of the words they spoke and the cadences in which they spoke them. Clay sold woof tickets about his prowess while Malcolm peddled Black Power and Black enlightenment. Both are inextricably bound in "One Night in Miami" because a major plot point is Clay's conversion to the Muslim faith as a follower of Elijah Muhammad. Clay is more than just a major get for Malcolm, as Clay is serious and devout about his conversion, but Malcolm himself has doubts about his future in the Nation of Islam. Goree is convincing in the ring in the two bouts presented here, and he's also as funny and quick as his real-life counterpart, even nailing the accent without overdoing it. This is his night to celebrate, yet he willfully spends much of it playing peacemaker between the others, especially Cooke and Malcolm.
Ben-Adir has the most difficult role to play here, and not just because he's standing in the inescapable shadow of Washington's work. Malcolm is quite a bit of a self-righteous troublemaker at times, forcing the rest of the crew to consider their power as Black men in the public eye who either don't have his controversial baggage (Cooke and Brown) or are about to inherit it (Clay's conversion to Cassius X). Ben-Adir has to carefully balance these moments, keeping Malcolm's power on the level of an audience who will push back. "I've got something for your ass!" he tells Cooke after a major back-and-forth about whether Cooke should sing protest songs. Malcolm puts on "Blowing in the Wind," a song by a White man, to show Cooke that even Bob Dylanis more activist than he is. There's a lot of sting in the interactions that populate this one night, and Ben-Adir brings much of it. As great as this ensemble is, his Malcolm stands out just a little more than the others.
So what exactly do these men talk about? I've purposely left most of those details out. The biggest joy of "One Night In Miami" is sitting back and listening to them. Stripped to their barest essences, they are simply Black men, and if you are a Black man, this film will have the familiarity of the many times you have congregated with your uncles, cousins, barbershop folk, brothers, and the like. King's direction is unobtrusive, yet nurturing. You can feel the safe space she's created for her actors to portray the love and conflict of Powers' script. And I loved how she framed the moment when Cassius Clay sells one too many tickets in the ring and gets clobbered for his sloppiness. Besides a minor slip or two in pacing, this is an assured big screen directorial debut.
It's rare to see a film about one Black legend relating to other Blacks, let alone four of them. While we'll never know what really was said or done, "One Night In Miami" is a wonderfully rendered fiction, a what-if scenario that doesn't sacrifice its honesty and complexity in favor of easier to digest scenarios. Some big issues are presented to the viewer and the characters, issues that haven't gone away. Unfortunately, three of the four legends in this film have left us, making this an especially bittersweet fly-on-the-wall drama. You'll laugh a lot, cry a little, and fondly think of it often.