หมวดหมู่ : หนังดราม่า , หนังเกี่ยวกับดนตรี
เรื่องย่อ : Yellow Rose (2020) [ บรรยายไทย พากย์ไทย ]


ชื่อภาพยนตร์ : Yellow Rose
แนว/ประเภท : Drama, Music
ผู้กำกับภาพยนตร์ : Diane Paragas
บทภาพยนตร์ : Diane Paragas, Andy Bienen
นักแสดง : Eva Noblezada, Princess Punzalan, Sylvia Ramos
วันที่ออกฉาย : 9 October 2020
วัยรุ่นชาวฟิลิปปินส์จากเมืองเล็ก ๆ ในเท็กซัสต่อสู้เพื่อไล่ตามความฝันของเธอในฐานะนักแสดงเพลงคันทรีในขณะที่ต้องตัดสินใจว่าจะอยู่กับครอบครัวหรือออกจากบ้านหลังเดียวที่เธอรู้จัก
IMDB : tt6862538
คะแนน : 5.9
รับชม : 1068 ครั้ง
เล่น : 87 ครั้ง
Guitar in hand and cowboy hat on her head, 17-year-old Rose Garcia (Eva Noblezada) embodies biculturalism. An undocumented Filipino-American with a passion for country music, she sings of not belonging, of being a "velvet chair in a dusty saloon." That sentiment of alienation runs through writer/director Diane Paragas' uneven fiction debut "Yellow Rose," as the magnetic heroine goes from one supposed save harbor to the next, aching to find solid ground.
Though she wasn't born there, small-town Texas is Rose's home and where her mother (Princess Punzalan) works at a motel. Likely influenced by her geographical location, she developed an affinity for a musical genre that's difficult to disassociate from the notion of American whiteness. Still, she claims it as her own and stuns each time her voice produces a song. But even if she feels a part of this country, the cruelty of the immigration system soon catches up to her. Upon returning home from her first trip to Austin with soft-spoken crush named Elliot (Liam Booth), she finds ICE arresting her mother. Her fragile safety instantly crumbles.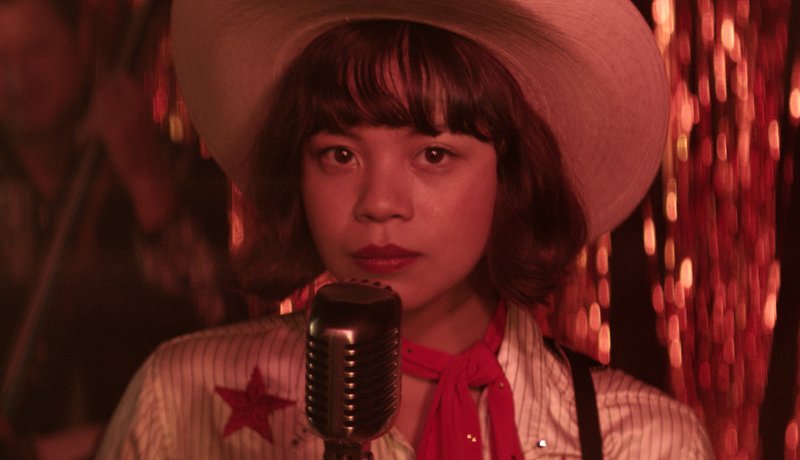 Stakes are immensely higher here than say for the young women in comparable journeys to break into the entertainment business like in "Wild Rose," a closely akin example, or "A Star is Born," since neither of those characters face the looming threat of racial discrimination or of being deported to a country they barely remember. For Rose, the dream is not only the fulfillment of her talent's promise but a chance at salvation—and a disheartening one at that because she can't be with her mother. The uncertainty of her status and how she's embraced Americana make for a fascinatingly ironic contrast.
Paragas makes the urgency of Rose's plight clear in the way cinematographer August Thurmer's camera briskly chases after her every time an ally falls through. She finds herself constantly on the run. Admittedly, some of the messaging and most dramatic beats (a second ICE raid) suffer from heavy-handedness, but there are still admirable choices among the crowded landscape of "Yellow Rose." One of the filmmaker's wisest emotional moves is to create spaces for tender instances where Rose sings mournfully, or like a Filipino lullaby, is moved by a song she hears.
Rose's unpredictable living arrangements give Paragas room to introduce a wide array of secondary characters that include a fellow immigrant, a kindhearted bar owner, and singer Dale Watson playing himself (without much success in the acting department). Yet, the one encounter that deserves further examination is that with her aunt (Lea Salonga), who's married to a wealthy white man uninterested in helping Rose. The aunt's regret for having disappeared from her Filipino's family's life in exchange for a comfortable existence in the suburbs speaks to the cost of assimilation as a pathway to socioeconomic prosperity.
A bona fide star making her film debut, Noblezada beckons our attention with a turn of grave distress and charming effervescence. Her presence salvages the movie from its own stiltedness on multiple occasions. The singer and actress doesn't enjoy the powerhouse moment that Jessie Buckley's character experiences at the end of "Wild Rose" with a tune like "Glasgow," but their trajectories are similar: they both go from staring failure straight in the face to accepting an imperfect version of their dream.
Despite not being as lyrical of a portrait as it could have been, "Yellow Rose" presents a rarely seen American identity and defies the preconceptions around who gets to be a country music fan or performer. But Paragas strings too many variables on the story, most of which require a more thorough inquiry than they get. That applies particularly to the immigration-related concerns regarding Rose's future. By the time we see her doing what she loves most, we are riddled with questions about how she moves forward in a hostile reality that hasn't changed at all. Her problems remain virtually the same. In the end, the neatly wrapped resolution amounts to a sense of incompleteness, like a concert that leaves you waiting for an encore.