หมวดหมู่ : หนังแอคชั่น , หนังระทึกขวัญ
เรื่องย่อ : Sniper: Assassin's End จุดจบนักล่า (2020) [ พากย์ไทย บรรยายไทย ]


ชื่อภาพยนตร์ : Sniper: Assassin's End จุดจบนักล่า
แนว/ประเภท : Action, Thriller
ผู้กำกับภาพยนตร์ : Kaare Andrews
บทภาพยนตร์ : Oliver Thompson
นักแสดง : Chad Michael Collins, Sayaka Akimoto, Tom Berenger
วันที่ออกฉาย : 16 June 2020
โทมัส ที่ได้รู้ดีว่าพ่อของเขาเป็นเพียงคนเดียวเท่านั้นที่เขาจะไว้วางใจในเรื่องของการต่อสู้ในหน้าที่ลับซึ่งเขาคิดว่าจะต้องผ่านไปได้ด้วยดีในรัฐบาลของสหรัฐ แต่หน้าที่ที่เขาได้รับก็คือการลักลอบสังหารนักการทูตในประเทศอื่น
IMDB : tt12305696
คะแนน : 5.4
รับชม : 29972 ครั้ง
เล่น : 12638 ครั้ง
Kaare Andrews (Cabin Fever 3: Patient Zero, Altitude) directs the best sniper movie so far in the long-running franchise that began 27 years ago with Sniper (1993). Sniper: Assassin's End is suspenseful, exciting, and well-paced. A vast improvement over earlier sequels in the Sniper series like Sniper 2 (2002) and Sniper 3 (2004).
The movie begins in Costa Verde, a fictional South American country. A sexy Japanese assassin, Yuki Mifune, aka Lady Death (Sayaka Akimoto), uses a sniper rifle to shoot over a mile away from her high rise hotel room. Her target is Bruno Diaz, the President of Costa Verde. Diaz is shot while attending a public ceremony to sign an agreement to lift a trade embargo with the United States. After killing Diaz, she frames Master gunnery sergeant, Brandon Beckett (Chad Michael Collins) by placing a single hair of his (as DNA evidence) in her hotel room.
The death of a foreign leader during the signing ceremony instigates the CIA to set up a temporary safe house to conduct an investigation. With Brandon Beckett's DNA found at the crime scene, he is arrested.
Beckett is held at the safe house and is interrogated by CIA Agent Franklin (Lochlyn Munro) and Zeke 'Zero' Rosenberg (Ryan Robbins) from Homeland Security. Following a brief interview, they decide to transport him to a more secure holding facility.
While being transported to the new location, Beckett's convoy is attacked by armed Russian mercenaries. During the attack, with some luck, Beckett frees himself, kills two assailants, and escapes in a midsize SUV.
Now a fugitive, Beckett flees to rural Northern Montana, to visit his estranged Father, Thomas Beckett (Tom Berenger). Brandon asks his Father to help him clear his name and expose those who framed him.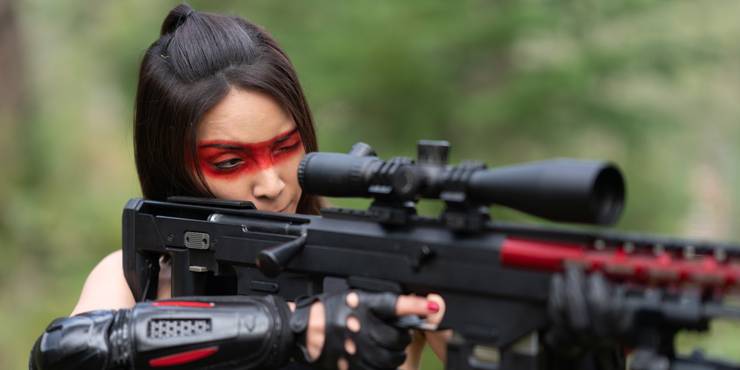 Sniper: Assassin's End again features Chad Michael Collins as the lead. Collins makes an affable and credible hero. I would recommend him for a future Captain America role if he were not so emasculated in this movie. His Dad saves his character too many times during pivotal moments.
Tom Berenger, as Thomas Beckett, gives an excellent performance and brings gravitas to his role. Sayaka Akimoto, in skin-tight black leather pants and red mask makeup, is another unique addition.
Production-wise, this movie is well shot by the director of photography, Stirling Bancroft. It looks worthy of a theatrical release. The film's score by Patric Caird is first-rate, his pulsating electronic music fits the fast-paced nature of the movie.
A key highlight in the film is when all three snipers: Brandon Beckett, Thomas Beckett, and Lady Death, are engaged in a sniper standoff. The screen divides into three equal parts, each section showing a sniper with a rifle. Director Kaare Andrews creates a tense and gripping sequence.
For a franchise I did not have much interest in, the Sniper series has become addictive and deserving of your hard-earned dollars for digital rental or purchase. In a time of amateurish and unprofessional video-on-demand releases, I appreciate productions that still take the time and effort to make high-quality entertainment.