หมวดหมู่ : หนังแอนนิเมชั่น , หนังแอคชั่น
เรื่องย่อ : Superman: Man of Tomorrow ซูเปอร์แมน บุรุษเหล็กแห่งอนาคต (2020) [ พากย์ไทย บรรยายไทย ]


ชื่อภาพยนตร์ : Superman: Man of Tomorrow ซูเปอร์แมน บุรุษเหล็กแห่งอนาคต (2020)
แนว/ประเภท : Animation, Action
ผู้กำกับภาพยนตร์ : Chris Palmer
บทภาพยนตร์ : Tim Sheridan
นักแสดง : Darren Criss, Zachary Quinto, Ike Amadi
วันที่ออกฉาย : 23 August 2020
เรื่องย่อ : ร่วมผจญภัยไปกับตัวละคร คลาร์ก เค้นต์ ตั้งแต่จุดกำเนิดในวัยทารกแบเบาะจนเติบโตเป็นวัยรุ่น คลาร์กอาศัยอยู่ในมหานครเมโทรโพลิส เขาซ่อนพลังเหนือธรรมชาติอยู่ภายใต้พนักงานฝึกหัดสุดแสนธรรมดาที่สำนักพิมพ์เดลี่แพลเน็ต และเมื่อนครเมโทรโปลิศถูกคุกคามโดยโลโบนักล่าค่าหัวจากนอกโลกและอสุรกายตัวร้ายพาราไซท์ ก็ถึงเวลาของเขาที่ต้องสวมชุดซูเปอร์แมนออกมาปกป้องชาวเมโทรโปลิสและโลกใบนี้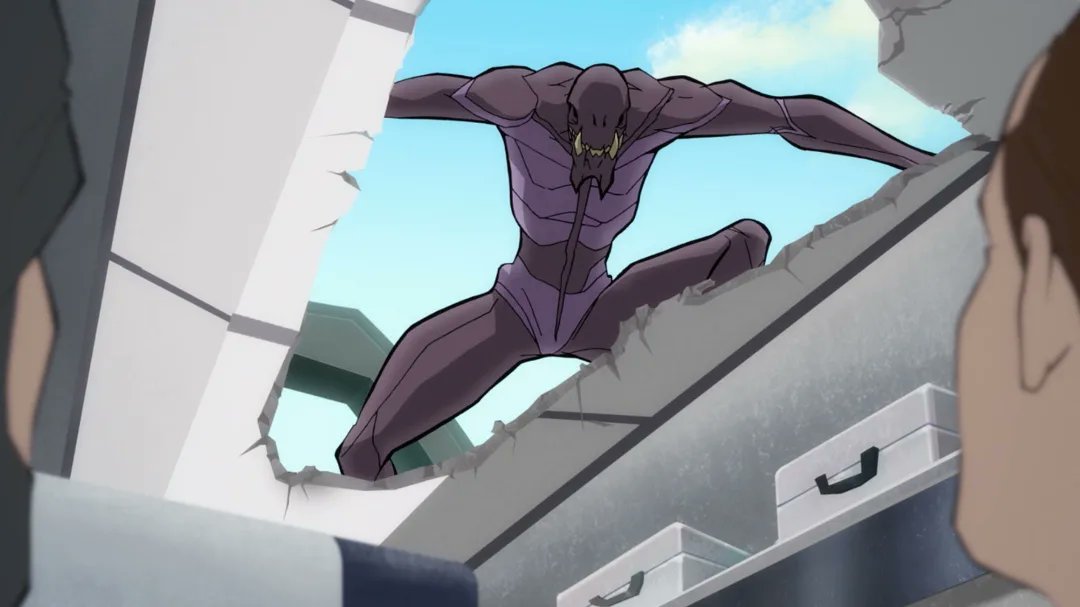 IMDB : tt11079116
คะแนน : 6.4
รับชม : 3536 ครั้ง
เล่น : 938 ครั้ง
It's the dawn of a new age of heroes, and Metropolis has just met its first. But as Daily Planet intern Clark Kent – working alongside reporter Lois Lane – secretly wields his alien powers of flight, super-strength and x-ray vision in the battle for good, there's even greater trouble on the horizon. Follow the budding hero as he engages in bloody battles with intergalactic bounty hunter Lobo and fights for his life to halt the attack of power-hungry alien Parasite. The world will learn about Superman … but first, Superman must save the world!
The origin story of Superman is one of, if not the most, well-known origins in comics from DC, Marvel or any other publisher. Out of his extensive 80-year-plus existence the Superman origin has been told countless times in a variety of media due to its continued relevancy no matter the times we're living in. Its latest re-telling in Superman: Man of Tomorrow gets so much of the origin right as director Chris Palmer and screenwriter Tim Sheridan focus on Clark's evolution from new city boy into the Man of Tomorrow with compelling characterizations, stylish animation and DC lore that is often not part of Superman's origins.
Clark Kent is a young 20-something who has just moved from his hometown of Smallville to the big city of Metropolis, becoming an intern at the Daily Planet mostly fetching coffees while others like Lois Lane rise through the ranks. As he discreetly uses his powers to help, more powerful and sinister forces compel him to reveal himself to the world and become Superman.
Man of Tomorrow really takes its time in letting the audience know this new interpretation of Clark before he puts the 'S' on. From a couple looks at Clark's young childhood to his interactions with Planet staffers, there is a lot of intriguing insight into Clark's development that pushes him to take a more active role in the spotlight rather than using his powers and appearances in a minimalist way. It comes full circle by the end as Superman comes to terms with who he is and can potentially be to humanity.
The best Superman origins always reflect the times its set in and that is perfectly on display here. Much attention is drawn to the fact that Superman and other aliens like him are unknown variables with possibly questionable motives, but more than that are just not human. A big theme of the film is humanity's fear of the unknown and the generalizations that can be made on what is different with Clark looking for ways to rise above them. While Martian Manhunter is extremely hesitant to humanity's tolerance or Lois thinks Superman is looking for some angle for himself, Clark always prefers to see the positives to humanity. It's a big part of his character that is examined throughout the film and ends up becoming one of the best iterations of Superman in animated form.
Darren Criss shines as both Clark and Superman, differentiating his voice just enough with some subtle changes while still making it known that underneath the 'S' it is Clark running the show. His take on Clark's personality is charming, fun and relatable as he tries making his way in the world. There is one monologue toward the end that rings so true to Superman's character and worldview and Criss' earnest performance sells it as one of the most powerful scenes of the film. Alexandra Daddario makes for a good Lois Lane, imbuing her with a youthful spunk and caring attitude, though she still does her best to slyly get her name at the top of the headline. Ike Amadi gives a nice performance as Martian Manhunter as he slowly develops beyond his uncertainty for humanity while Ryan Hurst milks his time as the crude intergalactic bounty hunter Lobo. Zachary Quinto also delivers one of the best performances of Lex Luthor in recent years as he shows off Lex's ambitious, sinister nature along with his dry wit as you're never quite sure what side he'll end up on.
Other vocal performances that help elevate the film are Neil Flynn and Bellamy Young as Jonathan and Martha Kent, the two characters who are always the heart of any good Superman origin. They both deliver very good performances as they help Clark navigate through life and adjust to the changes he faces as a young superhero. Brett Dalton also makes a good Rudy Jones, the soon-to-be Parasite, as he establishes himself a good man before a tragic accident. However, the film could have benefited from a bit more time on him to garner more sympathy for him and his family before becoming the villain. As it is, the emotional moments he does have before and after his transformation work pretty well for the most part.
One notable aspect of Man of Tomorrow is the departure in animation style from the recent line of DC Original Animated Movies like Reign of the Supermen and Justice League Dark: Apokolips War. The animation is very slick with energetic fight scenes and great work on characters facial expressions. Lois in particular has plenty of great detail in her face as she expresses shock, pride, exasperation and a multitude of other emotions. The colour palette is pretty vibrant, especially once Clark dons his classic costume and Parasite begins evolving into something more monstrous. It's a great looking film that stands out from the previous releases in DC's line and a great springboard for future animated films.
Superman: Man of Tomorrow does what all great Superman origin stories should do: it brings Superman down to Earth by focusing on him as Clark Kent, getting audiences to care about him and his world as he takes his first steps to becoming Superman. The focus on his journey is the highlight and with Criss leading a great cast, the humanity and inspirational aspects of Superman's character is brought to the forefront. Fans who are well versed in Superman will enjoy this modern retelling while those who are completely new to the character will likely become a fan after viewing this.