หมวดหมู่ : หนังดราม่า , หนังระทึกขวัญ , หนังชีวประวัติ
เรื่องย่อ : Driven ขับเคลื่อน (2018) พากย์ไทย บรรยายไทย


ชื่อภาพยนตร์ : Driven ขับเคลื่อน (2018)
แนว/ประเภท : Biography, Drama, Thriller
ผู้กำกับภาพยนตร์ : Nick Hamm
บทภาพยนตร์ : Colin Bateman, Alejandro Carpio
นักแสดง : Jason Sudeikis, Lee Pace, Judy Greer
วันที่ออกฉาย : 16 August 2019
เรื่องย่อ : ในช่วงต้นยุค '80 จิม ฮอฟฟ์แมนถูกบีบเพื่อให้ข้อมูลแก่เอฟบีไอ เพื่อล่อลวงจอห์น เดอลอเรียนเจ้าสัวรถยนต์ (รถใน Back to the Future เป็นผลงานออกแบบของแก) ผู้ที่มีปัญหาการหมุนเงินในธุรกิจ นำไปสู่การแอบลักลอบค้าโคเคน
IMDB : tt5592796
คะแนน : 6.3
รับชม : 1583 ครั้ง
เล่น : 331 ครั้ง
Lee Pace, Jason Sudeikis and Judy Greer headline director Nick Hamm's amusing take on the John DeLorean story.
Driven is, in a sense, a biopic of John DeLorean, the golden boy of the automotive industry who turned to unsavory activities to save his nascent DeLorean Motor Company in the early 1980s. But it is mainly told from the point-of-view of his neighbor, the crooked pilot turned FBI informant and happy-go-lucky schmuck Jim Hoffman, who helped to get DeLorean involved in a drugs transaction that was supposed to solve his new company's cash-flow problems but which turned into a government sting operation and a subsequent trial instead. Though the modestly scaled film, directed by Nick Hamm (The Journey, Killing Bono), has a somewhat messy structure, this a pretty entertaining period comedy that could appeal to older audiences, with the clever casting of Guardians of the Galaxy star Lee Pace as DeLorean and Jason Sudeikis as Hoffman serving as possible marketing hooks that could reach a slightly younger crowd. Driven was the closing film of the Venice Film Festival and also plays at Toronto.
The film opens with FBI special agent Benedict J. Tisa (Corey Stoll) instructing Hoffman (Sudeikis) as they are on the way to the courtroom for the DeLorean trial, in early 1980s California. Hoffman is a key witness, expected to reveal whether it was the FBI that got DeLorean involved in the drugs operation — via Hoffman — or whether the car designer and entrepreneur was the one that initiated the talk of possible help from some of the less wholesome types his neighbor used to hang out with when he flew to places like Thailand and Bolivia as a pilot who would "transport anything."
Most of the story is thus recounted from the courtroom and then in flashbacks, from Hoffman's arrest by Tisa for the transportation of drugs in his plane on his way back from a family vacation to his subsequent collaboration with the FBI and the way he got to know his famous San Diego neighbor — who designed the GTO as well as the DeLorean, famous for its winged doors, as featured in the Back to the Future movies — while secretly working for the government. Supporting characters include Hoffman's wife, Ellen (the always divine Judy Greer) as well DeLorean's other half, Cristina (newcomer Isabel Arraiza), and Morgan Hetrick (Michael Cudlitz, The Walking Dead), the loud-mouthed owner of the $3 million in drugs that Tisa arrested Hoffman for on his way back from Bolivia via Disney World.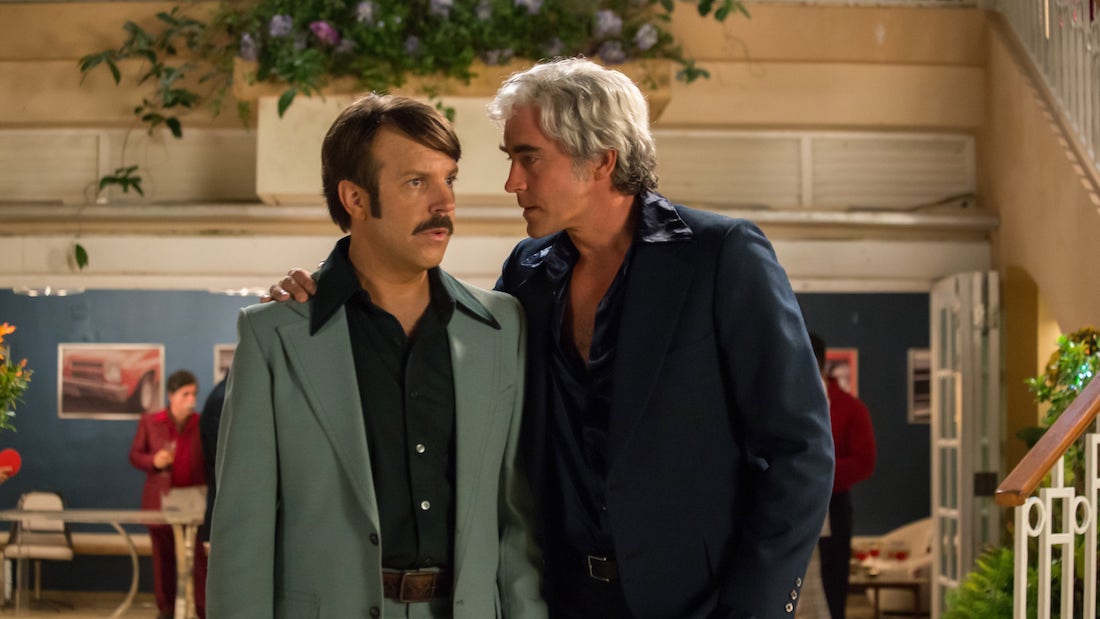 DeLorean is simultaneously a charmer and a tough businessman, and it's easy to see why people were interested in General Motors' former golden boy when he decided to set up his own company. Pace gets the steel-edged charisma of the silver-locked man just right and it's fascinating to see him go from living the Southern California high life to becoming increasingly desperate when his company runs into cash-flow problems. The beauty of Pace's performance is that it not only depicts the man but also the ambiguity that creeps in because he's seen from Hoffman's point of view, which is why DeLorean initially feels invincible and yet there's always a part of him that remains unknowable.
Northern Irish screenwriter Colin Bateman, who wrote Hamm's The Journey, and his Puerto Rican co-scribe, Alejandro Carpio, also have fun with Hoffman's oily cat-and-mouse game between eternal hustler Hoffman, who is not always the brightest bulb in the box but who somehow always seem to mean well, and the more hard-boiled Tisa, simply called "Ben" by Hoffman, much to the agent's annoyance. Sudeikis and Stoll have good chemistry as two men stuck with each other whether they want to be or not, and their banter is some of the movie's funniest, even if, overall, this is more a comedy of chuckles than real guffaws.
For once, the wives — and especially Hoffman's spouse — aren't just an afterthought. Ellen's resistance to Jim's secret activities feels not only like a plot necessity but something that's inextricably linked to who this woman is. Greer is especially good in the scene where she discovers a wire on her hubby. But since she's such a believable creation, the fact that Ellen actually leaves her husband over his excesses only to join him again in practically the next scene feels implausible; love can overcome many things, but these circumstances require more of an explanation than we get here. Cristina and Ellen also get a few moments together, and Erin Moriarty has a ball as Morgan's crazy, up-for-anything girlfriend, much to the annoyance of Cristina.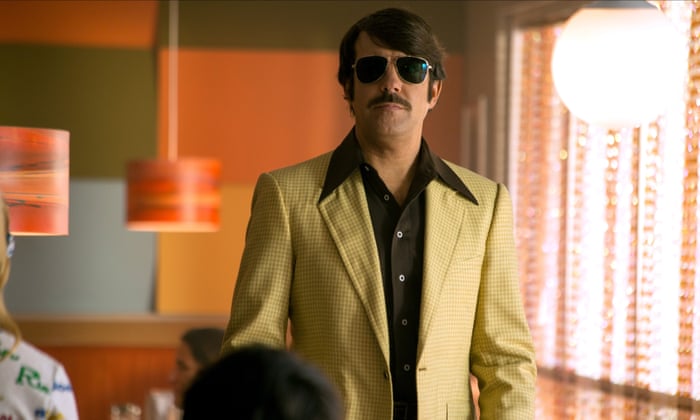 Though the story is never hard to follow, there are some structural decisions that have a negative impact on the story's dramatic momentum. It only emerges very late why exactly Hofmann is a key witness at the DeLorean trial — we never even see DeLorean speak once at his own hearing! — and the film's deliciously ironic finale won't necessarily fully register if what's exactly at stake in the courtroom isn't made clearer earlier. Ditto with how what is being investigated is treated in the flashbacks, with DeLorean and Hoffman's conversations now coming across as somewhat vague instead of intentionally ambiguous and audiences not necessarily directly aware they might want to pay closer attention to what is really being said.
"I know I'm full of shit and there's some charm in that, I think," Hoffman says in a rare moment of self-awareness. And indeed, like Hoffman, the film gets away with a lot, mainly because the mustachioed Sudeikis is so damn likeable, even though what his character is doing often isn't a great idea. If the pic is ultimately an entertaining ride, it is because Sudeikis takes the audience by the hand through this very unlikely story that was inspired by true events.
Driven, actually shot in co-producing Puerto Rico, looks like a brochure for a tropical paradise, with the period recreation, from Fernando Carrion's production design to Julia Michelle Santiago's costumes, more than a little exaggerated for comic effect. The soundtrack sounds pretty much like you'd expect for a movie set in the crazy and decadent 1970s.