หมวดหมู่ : หนังตลก , หนังอาชญากรรม , หนังดราม่า
เรื่องย่อ : Made คู่บ้าฟ้าประทาน (2001) พากย์ไทย


ชื่อภาพยนตร์ : Made คู่บ้าฟ้าประทาน
แนว/ประเภท : Comedy, Crime, Drama
ผู้กำกับภาพยนตร์ : Jon Favreau
บทภาพยนตร์ : Jon Favreau
นักแสดง : ince Vaughn, Jon Favreau, Joe Goossen
วันที่ออกฉาย : 31 August 2001
บ๊อบบี้มีความผูกพันกับหัวหน้ามาเฟียท้องถิ่น Max แต่ทำงานเป็นช่างก่อสร้างที่ซื่อสัตย์ต่อโครงการก่อสร้างของ Max เขาต่อสู้ในการแข่งขันชกมวยสมัครเล่นที่ด้านข้าง
แต่อาชีพของเขานั้นไม่ค่อยสดใสนัก (ชนะห้าครั้งแพ้ห้าครั้งเสมอ)

การดิ้นรนเพื่อสนับสนุนแฟนสาวนักเต้นระบำเปลื้องผ้าของเขาเจสสิก้าและโคลอีลูกสาวของเธอบ๊อบบี้ตัดสินใจทำงานมาเฟียให้แม็กซ์ กับการตัดสินที่ดีกว่าของเขาเขานำริคกี้เพื่อนสนิทที่ไม่เคยทำมาก่อนบ๊อบบี้และริคกี้ไปนิวยอร์กเพื่อทำหน้าที่เป็นตัวแทนของแม็กซ์สำหรับข้อตกลงการฟอกเงินกับรูอิซหุ้นส่วนฝั่งตะวันออกของเขา

พวกเขาพบจิมมี่ใครจะเป็นคนขับและ Horrace ซึ่งเชื่อมต่อกับแม็กซ์และรุยซ์ ริกกี้กับบ๊อบบี้ทะเลาะกันตลอดการเดินทางขณะที่ริคกี้พยายามจะมีชีวิตอยู่อย่างมีขนาดใหญ่ในขณะที่บ๊อบบี้อยากจะอยู่อย่างระมัดระวังและยึดมั่นในจดหมายแนะนำของแม็กซ์ รุยซ์มีความเห็นต่ำทั้งคู่ แต่ส่งพวกเขาออกไปเพื่อแสดงการติดต่อทางอาญาของเขาชาวเวลส์เป็นช่วงเวลาที่ดี Gaffing หลายครั้งพร้อมกันทั้งคู่ในที่สุดก็จัดการจะจัดให้มีข้อตกลงระหว่างรุยซ์และเวลส์ของWestieรายชื่อผู้ติดต่อ
IMDB : tt0227005
คะแนน : 6.4
รับชม : 1539 ครั้ง
เล่น : 206 ครั้ง
Who knew that Jon Favreau wanted to be John Cassavetes all along? In ''Made,'' his directorial debut and another guys' guys misfit comedy in the vein of ''Swingers,'' which he wrote and co-starred in, he pushes on through to the other side. ''Made'' is the work of a man who's probably sick of having people come up to him and repeat lines from ''Swingers'' while probably missing the point of that movie's last scene, which explodes the characters' self-absorption.
With ''Made,'' which he also wrote, Mr. Favreau demonstrates an admirable need to anger the ''Swingers'' faithful who still toast one another with Cosmopolitans while playing their Squirrel Nut Zippers CD's. That ambition doesn't translate into a very good movie, but it's hard not to dig his aims; ''Made'' plunges into the heart of tackiness.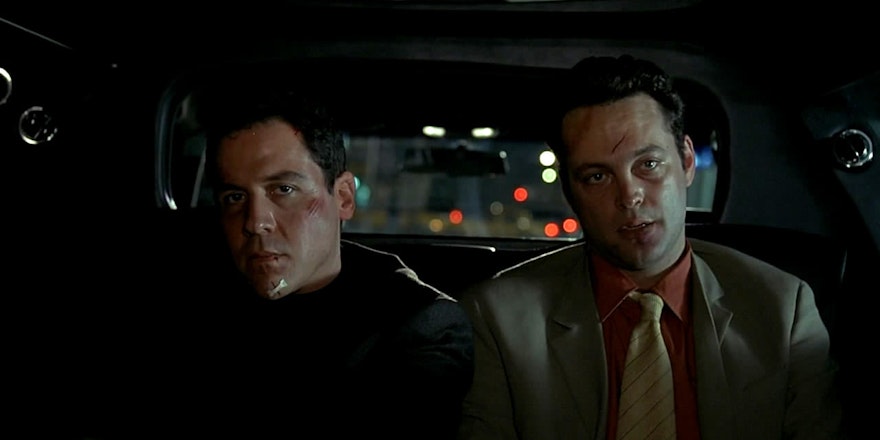 In the movie, which opens today at the U.A. Union Square 14, we see what Vince Vaughn's character in ''Swingers'' would have been like if he really existed: a would-be charmer afflicted with a hipster's version of echolalia as his way to be the center of attention, constantly testing everybody's patience. It's also a courageous impulse on Mr. Vaughn's part: he's playing that guy, here named Ricky. Ricky's best buddy is Bobby (Mr. Favreau), a chump with a big heart and a 5-5-1 boxing career.
The picture opens with Bobby, a club fighter, in a tepid slugfest with Ricky; this sting-like-a-butterfly travesty is so boring that even the hecklers can't rouse themselves to do much damage. Bobby makes a living laying cement and doing carpentry to support his girlfriend, Jessica (Famke Janssen), a stripper, and her daughter, Chloe (Makenzie Vega). He keeps Ricky, whose compulsive chatter causes nothing but trouble, afloat because of his street do-gooder's take on noblesse oblige.
Ricky is Bobby's self-destructive Johnny Boy, a nod to ''Mean Streets,'' though in ''Made'' Mr. Favreau makes evident the debt that both he and Martin Scorsese owe to Cassavetes. The Cassavetes influence gets another nod with the casting of Peter Falk, who co-starred in the filmmaker's ''Husbands'' and ''Faces.'' Mr. Falk is Max, a mob fixer with a soft spot for Bobby. Max packs the down-on-his-luck Bobby off to New York to do a job left vague -- something about a package and delivery. Bobby is allowed to take Ricky along, on condition that he keep his mouth shut and stay out of trouble, which is impossible.
Bobby leaves a trail of apologies through a veritable Time Out tour of Manhattan clubs after Ricky messes up a deal with Max's New York associate, Ruiz (a very funny Sean Combs, who puts aside the Daddy and Diddy persona for this role). They also pick up bruises like passport stamps as they stomp through the city's night spots, delivered to their appointed rounds by Jimmy (Vincent Pastore), a chauffeur who can barely maintain his stoicism because of Ricky's pathetic attempt at big-shot status.
Mr. Favreau goes back to the roots of vérité independent film, having the sleazy milieu photographed by the two-fisted cinematographer Chris Doyle, who brought Wong Kar-wei's flights of lyricism to life. When the movie isn't being music-video snazzy, Mr. Doyle gets the low-life wooziness just right. The jazz-funk score by John O'Brien and Lyle Workman thickens the grotty atmosphere, too. But we end up just admiring the effort, though the movie does recreate some of the moments of genuine irritation that Cassavetes scratched onto celluloid, immortalized by camera operators who weaved like punch-drunk fighters.
It's not just ''Swingers'' that's invoked here; there's a little of Elaine May's noir ''Mikey and Nicky,'' and a touch of ''Midnight Run,'' too. And there's comedy: a culture crash of cameos by a couple of ''Sopranos'' actors and a Saturday morning comedy figure, who wobbles out of nowhere to get a laugh. And a lot of the scattered, obviously improvised dialogue draws comic blood; when Bobby makes pasta puttanesca for Chloe, you bolt upright, concerned that he's going to tell the little girl the dish's origins.
Mr. Vaughn is unafraid to paint himself as a jerk, but Mr. Favreau makes himself a lug of a martyr; Cassavetes was much harder on himself as an actor, despite the actorish indolence of pictures like ''Husbands.'' Though Mr. Favreau probably had to co-star in ''Made'' to make his exposé of the loser's mushy pink underbelly of ''Swingers'' register, he might have come up with a better picture if he had stayed behind the camera. But he's willing to take chances, and he'll learn from this movie.
''Made'' is rated R (Under 17 requires accompanying parent or adult guardian) for violence, drug consumption and strong language.
MADE
Written and directed by Jon Favreau; director of photography, Chris Doyle; edited by Curtiss Clayton; music by John O'Brien and Lyle Workman; production designer, Anne Stuhler; produced by Vince Vaughn and Mr. Favreau; released by Artisan Entertainment. At the U.A. Union Square 14, 13th Street at Broadway. Running time: 95 minutes. This film is rated R.
WITH: Jon Favreau (Bobby), Vince Vaughn (Ricky), Peter Falk (Max), Famke Janssen (Jessica), Sean Combs (Ruiz), Faizon Love (Horrace), Vincent Pastore (Jimmy) and Makenzie Vega (Chloe).