หมวดหมู่ : หนังผจญภัย , หนังดราม่า , หนังลึกลับซ่อนเงื่อน
เรื่องย่อ : Euphoria ความรักที่แสนอบอุ่น (2017) พากย์ไทย


ชื่อภาพยนตร์ : Euphoria ความรักที่แสนอบอุ่น
แนว/ประเภท : Adventure, Drama, Mystery
ผู้กำกับภาพยนตร์ : Lisa Langseth
บทภาพยนตร์ : Lisa Langseth
นักแสดง : Alicia Vikander, Eva Green, Charlotte Rampling
วันที่ออกฉาย : 2 February 2017
กลุ่มวัยรุ่นวัยว้าวุ่น กับเรื่องราวพัวพันเกี่ยวกับ ยาเสพติด, เซ็กซ์, การค้นหาตัวตน, บาดแผลในจิตใจ, โซเชี่ยลมีเดีย, ความรัก และมิตรภาพ นำแสดงโดย Zendaya (นางเอก Spider-Man: Home Coming, Far From Home) รับบทเป็น รูว์ เด็กสาววัยรุ่นที่กำลังอยู่ในวังวนของการบำบัดยาเสพติดและการหาจุดยืนในสังคม จนกระทั่งได้เจอเพื่อนใหม่ จูลย์ Trans Girls หรือสาวประเภทสอง จนก่อเกิดความสัมพันธ์บางอย่างยากจะอธิบาย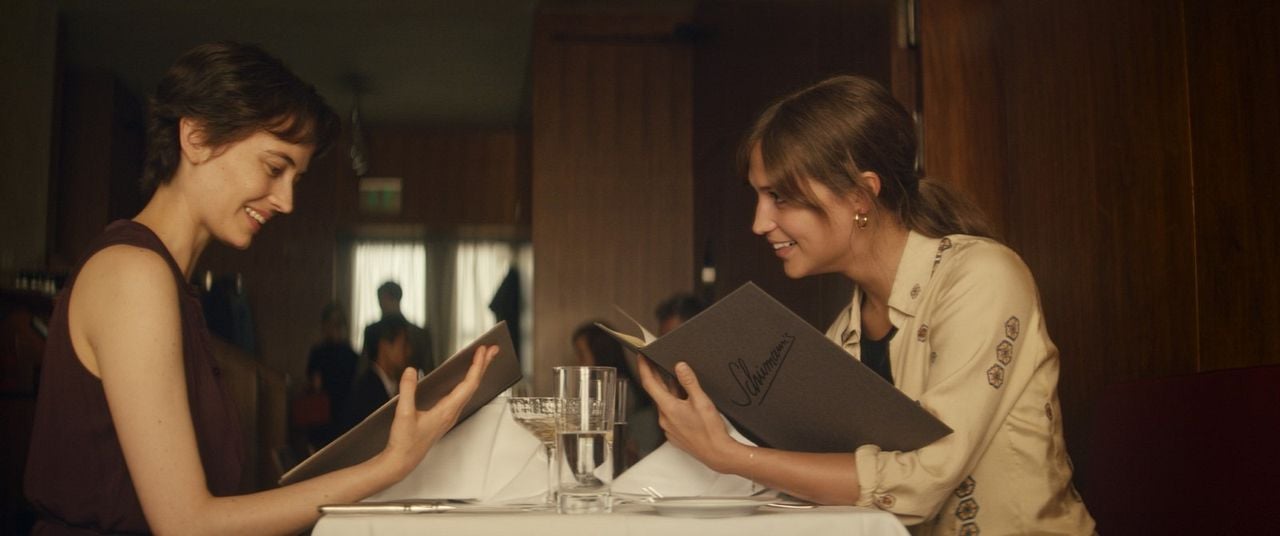 IMDB : tt5698320
คะแนน : 5.8
รับชม : 1164 ครั้ง
เล่น : 220 ครั้ง
Two estranged sisters with beaucoup unresolved issues meet for a European holiday in Swedish writer-director inauspicious English-language feature The first production out of star Vikarious Film stable, this oh-so-serious, hysteria-tinged drama, which is impossible to write about without spoilers, plays as if it might have come from Yorgos Lanthimos' bin of discarded ideas. A prestige cast including Eva Green, Charlotte Rampling and Charles Dance will entice distributors to take a look, but the post-screening take-away is definitely not happiness or excitement, but rather something that could be described by other "e" words — such as excruciating and embarrassing.
After planning a mysterious luxury jaunt, Emilie (Eva Green) effuses happiness that her long out-of-touch younger sis Ines (Vikander), a successful artist now suffering some negative reviews, has agreed to join her. Meanwhile, Ines remains skeptical and stand-offish, wondering how her drama queen sibling can afford such excess. But given that the surprise destination turns out to be a high-end euthanasia clinic in the remote countryside, accessible only by helicopter or hours of driving, terminally-ill Emilie needs only to afford six days before she literally and figuratively checks out.
Ines, who was looking forward to massages and peaceful country walks, is not well-pleased to be hearing about her sister's illness in this manner and is repelled by the clinic's concept, which includes personal companions who gravely look after the clients' every wish, a social-media consultant able to plant information on the internet that will make them look like better people after death, and a solemn tolling of bells that presages the time for each guest to drink the draught of eternal sleep. Moreover, despite the best efforts of Emilie's companion Marina (Charlotte Rampling, as serene as an automaton), she's definitely not in the mood to rehash their childhood, particularly the sad period after their father left home and their mother turned into a dysfunctional, suicidal mess.
When the siblings aren't quarreling or tentatively bonding (if that is what you can call the awkward scenes in which Emilie forces Ines to recount intimate details of her sex life and the banal things she plans to do after Emilie's, er, departure), there's time to introduce a few other guests. These include Mr. Daren (Charles Dance), a cynical brain-tumor sufferer, whose loud, vulgar farewell party contravenes every aspect of the peace and quiet that the other guests are paying for, and Brian (Mark Stanley), a paraplegic former pro-soccer player whose death wish is extinguished by a night with Emilie.
After Langseth's debut feature, the realist drama "Pure," which gave Vikander one of her first big-screen roles, the two worked together again in "Hotell," an oddball drama about an unconventional therapy group. There, Langseth explored some taboo subjects, but she did it in a playful manner that engendered real release. But even if audiences find themselves able to remain in their seats until the end of "Euphoria" (men, especially, fled the TIFF press and industry screening in droves), the catharsis feels fake and unearned. Moreover, the film lacks the warmth and respect for all of of its characters displayed in Langseth's previous work.
The visually undistinguished lensing by Rob Hardy, who shot the Vikander-starrer "Ex Machina" doesn't help matters, nor does the stolid cutting by Dino Jonsäter. In a film that could use some sly humor, the only thing that comes across as mildly amusing, apart from the use of David Bowie's "Rock 'n' Roll Suicide," are the faux-Thai, massage-parlor-esque outfits worn by most of the clinic's staff. The unattractive leisurewear sported by Vikander and Green throughout is not a good look. For the record, the film title comes from a Swedish poem by Gunnar Ekelöf recited during a would-be purgative evening on the clinic lawn.