หมวดหมู่ : หนังแอคชั่น , หนัง Netflix , หนังชีวประวัติ , หนังประวัติศาสตร์
เรื่องย่อ : Goyo: The Boy General โกโย นายพลหน้าหยก (2018) [ บรรยายไทย ]


ชื่อภาพยนตร์ : Goyo: The Boy General
แนว/ประเภท : Action, Biography, History
ผู้กำกับภาพยนตร์ : Jerrold Tarog
บทภาพยนตร์ : Rody Vera, Jerrold Tarog
นักแสดง : Paulo Avelino, Carlo Aquino, Arron Villaflor
วันที่ออกฉาย : 5 September 2018
Goyo: Boy General หรือรู้จักกันในชื่อ Goyo เป็นภาพยนตร์มหากาพย์ทางประวัติศาสตร์ของฟิลิปปินส์ที่นำแสดงโดย Paulo Avelino ในชื่อเรื่อง "Boy General" ซึ่งมีชื่อว่า Gregorio del Pilar ซึ่งเสียชีวิตในระหว่างการรบ Battle Tirad Pass ในประวัติศาสตร์ของสงครามฟิลิปปินส์ - อเมริกา
IMDB : tt5094192
คะแนน : 6.7
รับชม : 802 ครั้ง
เล่น : 119 ครั้ง
Conceived as the second installment in an ongoing trilogy about the Philippine struggle for independence from American colonial power in the late 1890s, Jerrold Tarog's sprawling Goyo: The Boy General picks up pretty much right where his earlier Heneral Luna concluded. Indeed, the political and military ramifications of Luna's execution at the end of that film hang heavy over the proceedings here. Consequently, some knowledge of the earlier work—and/or its historical context—seems like it would prove helpful for a better understanding of the Byzantine machinations set in motion by Goyo's extensive dramatis personae, many of whom also featured in the previous film.
Goyo is unquestionably a handsomely mounted production, though perhaps that isn't exactly surprising, considering it's reportedly the most expensive Filipino film of all time. At any rate, Pong Ignacio's versatile cinematography segues effortlessly from jittery handheld camerawork (for that "authentic" documentary feel) to swooping Steadicam and crane shots, not to mention some rousing aerial drone footage. Multi-hyphenate Tarog (who co-wrote, directed, edited and scored the film) cannily uses crosscutting and juxtaposition to heighten the impact of certain sequences. Then again, he sometimes indulges in frustratingly clichéd generic tropes. For example: On the eve of the climactic battle, we get a fairly uneventful montage of what the major characters are doing with themselves, which mostly consists of turning uneasily in their sleep or looking concernedly offscreen into futurity.
Tarog's approach to the historical epic seems closer to the cinegenic sweep of David Lean, with just a smidgen of Terrence Malick's rapturous attention to the natural world, than, say, Steven Soderbergh's more unconventional Che Guevara biopic. Goyo paints an enigmatic, somewhat distanced (some might say unfocused) portrait of its titular figure, Gregorio "Goyo" del Pilar (Paulo Avelino), who rose to the rank of general at the ripe old age of 24. You mostly have to infer Goyo's inner workings and motivations from his frequently inconsistent behavior, with a handful of PTSD-related flashbacks to provide requisite empathetic gravitas.
Tarog does light on an innovative way to feed us necessary backstory in the form of a rural theatrical production that humorously chronicles Goyo's youthful exploits. And then there's the sequence where Goyo has a vision of his own impending death while swimming at night in a river: The camera focuses on him floating underwater, lost in the murky depths of a studio water tank, framed in exactly the sort of way we've seen in a lot of recent films like The Shape of Water and A Cure for Wellness. Cinematic bodies of water typically stand in at a symbolic level for the unconscious, but here we're given little in the way of psychological insight. This feels far more akin to unabashed mythmaking.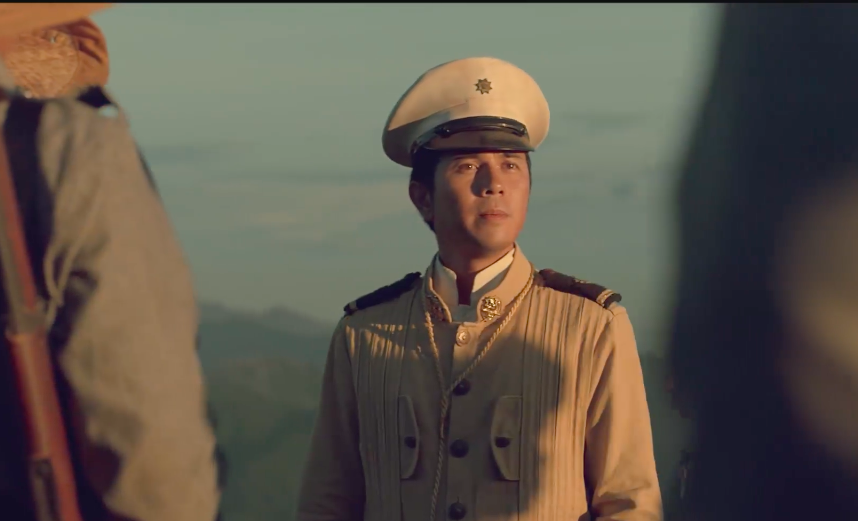 Sporadic narration from a peripheral character, Joven Hernándo (Arron Villaflor), Goyo's "official" photographer, serves to counterpoint all the martial posturing with some philosophical ruminations on the nature of heroism. The script pays a lot of lip service to the difference between being a hero and being a soldier, which may or may not be synonymous with another distinction that gets a lot of mileage throughout the film: that between simply following orders and fighting for some exalted ideal, be it military honor or patriotism or "a noble death," whatever that might be. It can get a little tricky construing these finely drawn lines, however, amid the fractious infighting between factions of the Philippine army on display here, not to mention a series of pretty pathetic military failures.
Tarog's film goes surprisingly easy on the invading Americans, who, at least until the climactic battle, are mostly seen as distant, shadowy figures who pop up to blast away at the Filipino rearguard. Racial epithets in the dialogue are kept to an absolute minimum, the American soldiers are never vindictive or cruel, and the slogan "Drink Pabst beer" seen carved into a rock outcropping replaces the usual "Kilroy was here" graffiti. American colonial intentions are best summed up by General Otis' (E. A. Rocha) dictum: "Surrender and be useful." On the other hand, the refrain sounded on several occasions by revolutionary leader Mabini (Epy Quizon) sounds oddly self-defeating: "They are right to call us children." Ultimately, then, for all its attention to historical detail, not to mention pictorial splendor, Goyo: The Boy General offers American audiences a puzzling, inconstant vision of the past.